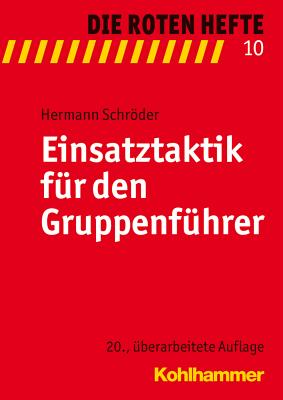 Please call, this item may not be available or contain special pricing.
Description
---
Das Rote Heft 10 gibt den Einsatzleitern, beispielhaft an der Funktion des Gruppenfuhrers dargestellt, Hinweise fur richtiges einsatztaktisches Verhalten im Feuerwehreinsatz. Anhand eines Ablaufplans, einem Modell fur den immer wieder zu durchlaufenden Fuhrungsvorgang, werden theoretische Hintergrunde erlautert und daraus praktische Einsatzhinweise abgeleitet. Das Rote Heft "Einsatztaktik fur den Gruppenfuhrer" wendet sich insbesondere an neue Fuhrungskrafte und will ihnen Hilfestellungen bei ihren ersten Einsatzen als Fuhrungskraft geben. Den erfahrenen Einsatzleitern gibt das Buch Anregungen fur die Aus- und Fortbildung.
About the Author
---
Dipl.-Ing. Hermann Schroder ist Landesbranddirektor von Baden-Wurttemberg.
You are here
Back to top
Einsatztaktik Fur Den Gruppenfuhrer (Paperback)