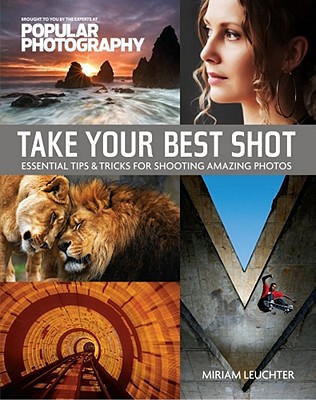 Please call, this item may not be available or contain special pricing.
Description
---
Gorgeous full-color photography how-to book gathers the best photo tips from professionals and amateurs, as well as how to use all the latest technology.

From the shutter-snapping experts at Popular Photography magazine, Take Your Best Shot takes your from camera novice to point-and-shoot pro. Learn how to:

-set up flattering window-lit portraits
-capture breathtaking underwater images
-take eye-defying motion-blur action shots
-shoot surprising abstract compositions

. . . all with the help of this manual's collection of tips from pro photographers. Take Your Best Shot starts with expansive sections on basic gear and camera functions, and then devotes entire chapters to photographing people, places, and things, offering insightful techniques for taking impressive photos. Includes illustrated step-by-step how-tos and diagrams that break down each shot so it's as easy as 1, 2, 3.

"An excellent roadmap to the joys of photography. Even experienced photographs will find it a vivid reminder of what first sparked their passion for photography."

—Brian Smith, Pulitzer Prize-winning photographer

"What's not to love? Smart, fun, fresh, and hip to history, this is a really hot book that comforts the beginner and challenges the old pro."

- Anthony Bannon, Director of the George Eastman House, International Museum of Photography & Film
About the Author
---
Miriam Leuchter is the editor of Popular Photography, the world's largest imaging magazine. She has juried many international photography competitions, and her own photography has been published and exhibited in magazines, newspapers, and art galleries in the United States and Europe.

With more than 2 million readers and over 70 years of expertise, Popular Photography is the world's largest how-to monthly magazine for image-making enthusiasts. The magazine's editor are just great how-to writers, they are all talented photographers, who really know how to get the most of any image.
You are here
Back to top
Take Your Best Shot (Popular Photography): Essential Tips & Tricks for Shooting Amazing Photos (Paperback)