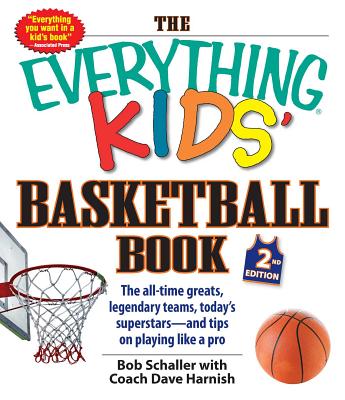 List Price: $9.99
Our Price: $8.99
(Save: $1.00 10%)
Description
---
Nothing but net!
You can dribble, shoot, and swish with tons of basketball fun in
The Everything Kids' Basketball Book, 2nd Edition
! Full to the rim with trivia, history, and thirty fun puzzles and games, this one-of-a-kind book is a must-have for kids who love the game.
Inside, you'll discover:
Facts and stats about basketball players of the past and today
The best offensive and defensive moves
Up-to-date stats and records of NBA teams
The scoop on the WNBA, the NCAA, and Olympic basketball
The history of basketball
The rules of the sport and tips for enhancing your game
This is your tip-off into the world of basketball. Learn about the greatest players, figure out the best position for you, and understand the sport on a deeper level. From college ball to the Hall of Fame, this book is your ticket to the fastest game in town!
About the Author
---
Bob Schaller is an award-winning sports writer and the author of thirty-five books, including The State of the Game with Hall of Fame basketball coach Denny Crum and UCLA legend John Wooden, and What Though the Odds with Notre Dame alum Haley Scott DeMaria. He is currently a contributing writer for several magazines and online news sites, including Skating, Splash, USA Gymnastics, and USA Hockey. He has a master's degree and is working toward a PhD in communications. He lives in Lubbock, Texas.

Dave Harnish is the head basketball coach at Western Nebraska College. His teams have won the Region IX Tournament twelve times to advance to the national tournament, and have won at least thirty games ten times. They have not lost more than nine games in a season since 1993. He lives in Scottsbluff, NE.
You are here
Back to top
The Everything Kids' Basketball Book: The All-time Greats, Legendary Teams, Today's Superstars--and Tips on Playing Like a Pro (Everything® Kids) (Paperback)